Slowly but surely it seems like life is returning to a new normal and with it has brought some changes, including how we raise bilingual children.  As a Latina mom raising a multilingual and multicultural child means making sure my child gets the language exposure and the need to use the language.  Sometimes that means being a bit creative with how Spanish or the minority language/s are used.  Here are my...
Top Bilingual Spanish Recommendations for 2022
Spanish Classes:
We have been using  Preply since September of 2021.  Preply is an online tutoring language platform that boasts tutors from many languages worldwide.  I found my daughter a Colombian Spanish tutor and they meet 1-2 times a week.  My focus was to have her converse more in Spanish since that is where my 7-year-old daughter needs the most practice.  Her tutor, Paula has been an amazing ally for me in my bilingual parenting because with her tutor my daughter knows she must speak Spanish.  I also love that it is pretty affordable compared to other programs.  I do recommend that you interview the tutor, share your family's needs and expectations, and most importantly have your child test it out to see if they match.  I do monthly check-ins with her tutor to see what areas we need to reinforce at home, but a great way for your growing child to continue with the language in the comfort of your home.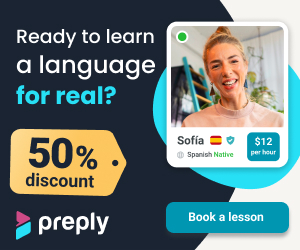 After working with Preply for over a year, I felt that we had to stir things up a bit and I wanted my daughter to have more interaction with children her age, but in Español.  Then came Hey Spanish.  Hey Spanish offers online Spanish classes, so your children can improve their Spanish while making friends who live all over the world.  I truly love this part.  She has classmates from everywhere and they make the classes very fun and interactive.  It took my daughter 4 classes to warm up to the teacher as it was new for her and she was so attached to her Spanish tutor.  Now she truly enjoys having both.  I also love this because it's a revolving subscription and very reasonably priced compared to other classes!  Take advantage of a FREE class courtesy of us when you use the Code MILEGASI at checkout.
Spanish Books:
I can't stress this book enough. It's very simple. Yes, it's a little bit outdated, but it's amazing. When we went to Colombia, I extended her Nacho library because in Colombia their Nacho books go by letters, and each one increases or advances from the previous version. So now, now she's between the end of Nacho A and the beginning of Nacho B. So those are the two then that we go to for Spanish language learning. You can find those on Amazon as well.
Mija Books
My next recommendation for books is my favorite bookstore which is located in Lakewood, California.  Mija Books is owned by Stephanie Moran Reed and her husband.  It is a multicultural bilingual bookstore. All they carry are multicultural or bilingual or Spanish books.  I love them. I love the assortment that they have. They have readings, they have, authors come in, and they have events. If you're not located in California, that's okay because they do have an online website, mijabooks.com . The owner Stephanie, was also a guest on my podcast, The Latina Mom Legacy, episode 334, Mija Books: creating a  multicultural book and shop for the Latinx community. So be sure to check that out.
Apps:
 Mondly
As a mom, I use tech with caution.  I really like Mondly because we subscribe to the yearly plan and the yearly plan includes up to, I think it's up to 41 languages to learn. My daughter uses the app to practice Bulgarian and I sit and do it with her because I also want to learn a little bit of Bulgarian.  She'll also practice Spanish. I like to get on there to practice Italian.  We definitely try to use Mondly a few days a week so that she is consistent with her language learning. Because again, if your child is not getting the exposure and the need to use the language, it's gonna be difficult for them to become bilingual or for them to become multilingual.
They also have a kids app but I prefer the regular version as my daughter is getting older and focus is on proper grammar and pronounciation.
Libby is the app that works with your library card and unfortunately not all libraries are linked to the Libby app. W hat I would recommend is to go on the Libby app or to call your local libraries and see if they are a part of the Libby database because if they are, you can link your library card to the Libby app and you'll have access to thousands of books, children's books, adult books, magazines, you'll have access to so many books in English and SPnaish. It's a wonderful way, especially if you download the app on the tablet when you are traveling, you can borrow the books.
Toys:
I love that Leapfrog continues to expand this line of toys that encourages vocabulary building in English and Spanish, this year introducing the
100 Words About Places I Go Book
.  Your child can explore over 100 words in two languages.  Your child can t
ouch words on each page to hear words in three play modes, Words, Colors and Counting, and Fun Sounds.  They also have

 

100 Words,

 

100 Animals, and

 

100 things that GoBooks that you can add to your child's collection.
The LeapFrog Level Up and Learn Controller is a great toy for on the go.  My daughter had a similar game when she was younger and we took it everywhere.  It kept her entertained as she played and listened to Spanish during car rides.  This controller helps your child get to know six animals and their sounds; hear about ABCs, counting, numbers, opposites, rhyming and Spanish.  WIth lots of colorful buttons and sounds this one is great for those 6 months and older.
Music:
123 Andres (2 time Latin Grammy winners)
Andrés and Christina are the Latin Grammy-winning music duo 123 Andrés. Their catchy songs and lively concerts get the whole family dancing and learning, in Spanish and English.  They're like the rock stars of bilingualism.  They also have books and will be touring in 2023 so be sure to take the kids to see them!
Purchase 123 Andres Music HERE
Just Dance has a lot of Spanish songs, especially if you subscribe to the monthly or yearly subscription to access hundreds of songs. What I like about the game is that it's kind of like karaoke. It's a video game where the kids dance and it also shows the lyrics.  So as you take turns dancing to Spanish songs (or English ones), your child will be able to read and sing along.  I do want to note that you should screen the songs and make sure they are appropriate for your children's age.  But overall, es muy divertido and everyone gets a workout!
Well, just, Stan has a lot of Spanish songs, uh, because people like Latin music, right? So what I like about them is, um, it's kind of like karaoke. So it is a video game. Can, they can do it, uh, YouTube, you can YouTube some of the u uh, just Stan songs. Uh, we have the video game on Xbox and Victoria uses my phone as a controller. And what I like about it is that they have a lot of Latin songs and even the songs, some of the songs that do have bad words, they cross out obviously the Bad Words because it's a, it's a family game.
Websites:
If there is a show, if there is a movie that I do not necessarily wanna sit and watch, I'll hop on Common Sense Media and I'll see what other parents and educators have to say about the show. Does it have an educational value? Does it have bad language? Violence? What are the, some of the topics?  You'll see parents leaving reviews, you'll see educators leaving reviews and that is very helpful because I mean, let's face it, we don't always have time to sit and watch the shows that our kids watch, but we want to make sure that whatever they're watching does have a good message.
My daughter uses this website quite a bit and I like it because it has a lot of activities. What I love about it is, is that they  have games in Espanol. They have a toggle switch on their website that you can toggle between English and Spanish and it encourages Spanish language learning and makes it fun!
Community:
In addition to all the resources found here on this website, we also have a new Facebook group that we are opening up for members of our community to share their experience and get support raising bilingual children.  Not into groups?  Check out how I can help you raise a bilingual Spanish child connected to their roots.